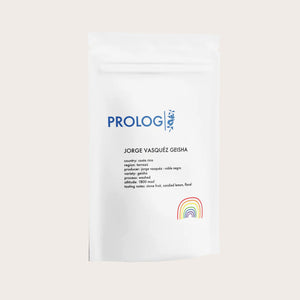 Shipped directly from GUSTATORY for freshness
Jorge Vasquez Geisha Washed Coffee (#012)
Citrus & Floral
Fruits
Coffee Specification
| | | | |
| --- | --- | --- | --- |
| Bolivia | Brazil | Colombia | Costa Rica |
| Dom. Republic | Ecuador | El Salvador | Guatemala |
| Honduras | Nicaragua | Panama | Peru |
| Burundi | Ethiopia | Kenya | Rwanda |
| Tanzania | Uganda | Indonesia | Yemen |
| | | | |
| --- | --- | --- | --- |
| 88 | 89 | 90 | 91 |
| 92 | 93 | 94-100 | Undisclosed, Exceptional |
| | | | |
| --- | --- | --- | --- |
| Washed | Natural | Anaerobic | Other |
| | | |
| --- | --- | --- |
| Espresso | Filter | Omniroasted |
About Prolog RoastersWhat is the goal? ...To add to the quality of life by giving people better coffee experiences. How? ...By exploring what is embodied in an amazing coffee experience. Why? ...Because we want to add to the quality of life. In terms of taste, what is a great coffee experience to Prolog? ...It's a coffee that's at the same time delicious and sense-evoking.
Prolog's goal has always been quite simple, to give their guests and cafe customers a better coffee experience. They love to put in effort to make a great product, love to serve something of great quality to the people who visit them in their coffee bar and to the coffee bars, restaurants, bakeries, etc. who use their coffee beans. Since Prolog opened their doors in 2016, every day in Prolog has been a part of the journey to get closer to this goal. That's why they have their name, Prolog. It's always a beginning.
Coffee InformationThis delightful washed geisha lot comes comes from our friend and long-time collaborator Jorge Vasquéz and his team at the Roble Negro wet mill. His coffee farm, Finca Cedral Alto, in the town of Aserrí in Costa Rica's Tarrazú region is about 45 minutes outside of the capital of San Jose.
This is our fourth year buying coffees from Roble Negro and early this year we got the first opportunity to visit ourselves and see all the hard work that goes on first-hand. This has allowed us to further strengthen the bonds between our two teams, and continue the dialogue on how we can work together to bring the best possible coffee experiences back to you in Copenhagen.
The name Roble Negro means black oak and Cedral Alto means high cedar grove. These names indicate the importance of trees, forestation, and environmental preservation to Jorge and his coffee production. Cedral Alto is 22.5 hectares, with 12 hectares of primary forest, 6.5 hectares of reforestation and pasture land, and 3 hectares of coffee cultivation. Biodiversity and healthy environmental life is the main catalyst for growing healthy and prosperous coffee, so this focus from Jorge and his team is so great to see.
The farm is filled with natural springs and freshwater sources, which the forested areas help protect and keep clean, and is situated at the transition between the Pacific side of the country and the Central Valley, spanning from 1750 to 2000 meters above sea level.
Cupping NotesStone Fruit / Candied Lemon / Floral
ProcessThe coffee itself has a delicious classic washed geisha profile. A tea-like body is followed up by complex and elegant notes of stone fruits and candied lemon, finishing with delicate florals. Smooth, balanced, and multi-layered, this is a coffee that really needs to be experienced.
We decided to roast this coffee omni, which means it can be enjoyed equally as both filter and espresso coffee.
Estimated cost savings for this special guest coffee:
(Shipped from GUSTATORY, UK: £3.00. International shipping to Europe starts from £7.00, Rest of World: £10.00)
Estimated dates for this special guest coffee:
A home-brewed quality coffee is far less expensive than cafes
Issue: With the continuing economic uncertainty that COVID and the cost-of-living crisis brings, many are tightening the purse strings and choosing cheaper alternatives. However...
For more: Comunicaffe International
...Whilst the purse strings may need to tighten, a better quality home-brewed coffee or tea is still far less expensive than buying individual drinks on the go. Over the last few years, many have taken the opportunity to improve their home brewing skills, and now with the equipment and know-how to recreate that authentic coffee shop experience from home, are enjoying cheaper quality coffees. With cafe coffees costing anything from £2.50-4.00 each, and with a bag of 250g quality coffee costing between £7.00-12.50 and providing you with enough to achieve up to 15-35 brews per bag (depending on brew method and strength preferences), the savings and better quality coffee are both there to be enjoyed.

If this isn't you, there really is no better time to start, and better yet, at GUSTATORY you'll find plenty of affordable coffee subscription packages. It also won't be long until you discover a new favourite. All coffees are roasted fresh for us as part of our monthly subscription delivery schedules.