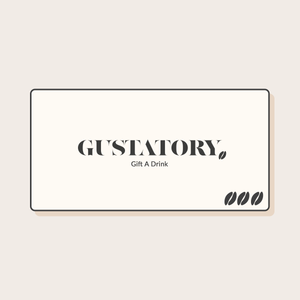 Gift A Drink
Gift cards have a mixed rep. Get it wrong and you look like the person that clearly just couldn't be bothered to think of an actual gift and just thought around the idea. Get it right and you have unlocked a world of endless shopping possibility that is only limited by that persons ability to think (and by the amount you loaded on the card).
Whether it's for your nan, your colleague or your ex (maybe leave it, they're not going to change), giving them complete access to a selection of the world's most esteemed independent coffee roasters is sure to brighten to their day. Why try harder than a GUSTATORY e-Gift card?
Gifting a Drink
Presented to the recipient within an online experience webpage, GUSTATORY's e-Gift cards offer something a little different to a normal gift card. Available in a range of denominations, from £10-100.00, there are also three methods of delivery that you may choose from to share your beverage kindness (selected during the checkout process):

Automated email to the recipient directly after purchase (you may pick any future date for this email to be received);
Share through with a link through Facebook Messenger, WhatsApp or any other messaging app, or;
Provide your e-Gift Card in a printable format for you to print from your own computer at home (or the offices... cheeky).
Receiving an e-Gift Card
Upon receiving an e-Gift Card, you may easily view, manage and redeem your gifted balance from within your account once signed in. You also have the ability to use Apple Wallet to keep your gifted credit alongside your other credit cards, vouchers, rewards cards and more. To redeem your gift balance, you may use these towards our regular subscription service or as individual coffee purchases. We've also our coffee merch too, or for something truly special, enjoy our coffee tasting experience - the choice is yours. e-Gift Cards are valid for a maximum of 12 months and there are no additional processing fees.

GUSTATORY For Business
Moving swifly on from anyone's nan or ex, we also have a wide range of companies that use GUSTATORY for business reasons. We are the UK's largest multi-roaster coffee subscription company, in which we work directly with all the most exciting of UK, USA and European speciality coffee roasters to widen the conversation that the coffee industry is in a global sustainability crisis. Speciality coffee is not commodity coffee and high-quality speciality coffee will always be better tasting and higher grade, more ethical and sustainable than supermarket / multinational cafe alternatives. For businesses, we offer two options:
1  Corporate Gifting: if you're wanting to gift a coffee to prospective clients ahead of meetings, reward staff members throughout the year, offer something extra in employment perk packages, and so on, whichever the reason, you're in fine company. Be safe in the knowledge that your recipient will soon be enjoying their coffee, or if gifting larger sums, well on their way to being a home barista in no time.
1  Business Coffees: our coffee subscription service operates for both consumers and businesses, in which for the latter we provide select hospitality, office and cafe businesses with their speciality coffee requirements via their own GUSTATORY Coffee Collective (with bulk business rate prices applied). Known industry-wide for our leading coffee curations, we reckon you'll love being a GUSTATORY Coffee Collective too.
The coffee industry is in crisis. Informed purchases are needed
Issue: Coffee prices are in crisis, which threatens the very existence of many coffee producers, and so, the future of coffee globally.
For more: GUSTATORY on Sky News Radio (Interview)
Our Answer: Informed purchasing decisions are advised, from the independent coffee roasters featured here on the GUSTATORY marketplace. Through direct-to-source relationships, roasters are able to protect their supply chains from the effects of price volatility as they form special relationships with producers. These relationships also protect producers as roasters often commit to fixed term and fixed price contracts, which give producers certainty. This certainty is what producers need in order to not only survive but thrive, committing to sustainable practices and addressing other global problems that are threatening the industry such as climate change.

Make their commitment your commitment. Support independent coffee roasters and you'll be making a difference before you even have your first cup of coffee.