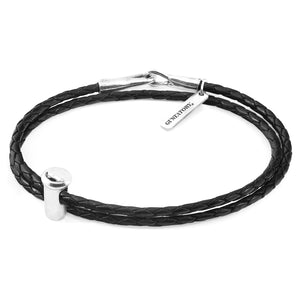 Black Coffee Takeout Cup Silver and Braided Leather Bracelet
In collaboration with ANCHOR & CREW, the GUSTATORY Black Coffee Takeout Cup Silver and Braided Leather Bracelet features:
Solid .925 sterling silver coffee takeout cup. Coffee on the go, for the cosmopolitan lifestyle or traveller in you!
Optional, mix and match your own bracelet with other GUSTATORY coffee beads. Included coffee takeout cup bead also available separately
2.5mm diameter genuine and natural round-shaped braided leather
Secure solid .925 sterling silver hook clasp and collaboration logo tag
This bracelet is available in four bracelet lengths, 17cm, 19cm, 21cm or 23cm in circumference, with the elastic nylon thread able to expand to fit onto your wrist. To take the bracelet on or off your wrist, simply slide the hook over the clasp and secure
About ANCHOR & CREW:Combining British craft manufacturing with a discerning modern-minimalist style, ANCHOR & CREW are handcrafted in Great Britain and multi-award winning since 2014, exclusively use only 100% recycled precious metals and believe in having a highly ethical and traceable supply chain.

A multi-gender unisex, womens and mens jewellery brand, ANCHOR & CREW are driven to enact sustainability change within the jewellery industry: recycled silver is 86% less emissive in greenhouse gases than mined silver, yet only 17% of sterling silver produced in a year comes from recycled sources. Timelessly British by design and manufacture, ANCHOR & CREW are particularly known for their anchor, rope and leather bracelets, amongst others.
New? Enjoy a FREE 250g coffee in your first box and save 10% off 3 months: 10FOR3
Coffee Subscriptions
Black Coffee Takeout Cup Silver and Braided Leather Bracelet
A home-brewed quality coffee is far less expensive than cafes
Issue: With the continuing economic uncertainty that COVID and the cost-of-living crisis brings, many are tightening the purse strings and choosing cheaper alternatives. However...
For more: Comunicaffe International
...Whilst the purse strings may need to tighten, a better quality home-brewed coffee or tea is still far less expensive than buying individual drinks on the go. Over the last few years, many have taken the opportunity to improve their home brewing skills, and now with the equipment and know-how to recreate that authentic coffee shop experience from home, are enjoying cheaper quality coffees. With cafe coffees costing anything from £2.50-4.00 each, and with a bag of 250g quality coffee costing between £7.00-12.50 and providing you with enough to achieve up to 15-35 brews per bag (depending on brew method and strength preferences), the savings and better quality coffee are both there to be enjoyed.

If this isn't you, there really is no better time to start, and better yet, at GUSTATORY you'll find plenty of affordable options from our huge range of quality independent roasters and brands from across UK, Europe and North America to support you in doing just that. With it easy to browse and shop for coffee on the marketplace or subscribe to a coffee subscription, it also won't be long until you discover a new favourite. All marketplace purchases are shipped direct for product freshness, with all subscriptions roasted fresh for us as part of our monthly delivery schedules.