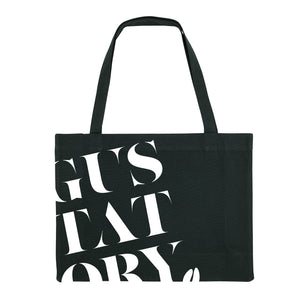 Signature GUSTATORY Woven Shopper Bag
Word on the street is that the fantastic British public can have access to the best of UK's, Europe's and USA's speciality roasters and be enjoying better coffee on the daily.
Some may say this is just hearsay, hearing the gossip from their colleague's aunt's best friend down at the pub. Others say the award for undisputed heavyweight champion of the coffee world goes by the name of GUSTATORY. We'd argue against both, but we are humbly trying to do our best. Here's to many more fine brews, the signature GUSTATORY way.
300gsm 80% cotton (recycled) / 20% polyester (recycled), with cross stitch reinforced handles for heavier carrying
Cotton is OEKO-Tex standard and vegan (Peta Approved), with the shopper bag manufactured under Fair Wear Foundation membership
Designed in-house alongside local creatives and locally screen printed by hand in Nottingham. Printed to order to prevent over-manufacture and reduce waste
Front: screen-printed with slanted signature logo
Back: screen-printed with reverse of slanted signature logo
Size: 14.5"(H) x 19"(L) x 5.5"(W)
Details: side soufflet for volume, strong double folded top edge, single edge stitch on all seams
Fabric washed, woven
New? Enjoy a FREE 250g coffee in your first box and save 10% off 3 months: 10FOR3
Coffee Subscriptions
Signature GUSTATORY Woven Shopper Bag
A home-brewed quality coffee is far less expensive than cafes
Issue: With the continuing economic uncertainty that COVID and the cost-of-living crisis brings, many are tightening the purse strings and choosing cheaper alternatives. However...
For more: Comunicaffe International
...Whilst the purse strings may need to tighten, a better quality home-brewed coffee or tea is still far less expensive than buying individual drinks on the go. Over the last few years, many have taken the opportunity to improve their home brewing skills, and now with the equipment and know-how to recreate that authentic coffee shop experience from home, are enjoying cheaper quality coffees. With cafe coffees costing anything from £2.50-4.00 each, and with a bag of 250g quality coffee costing between £7.00-12.50 and providing you with enough to achieve up to 15-35 brews per bag (depending on brew method and strength preferences), the savings and better quality coffee are both there to be enjoyed.

If this isn't you, there really is no better time to start, and better yet, at GUSTATORY you'll find plenty of affordable options from our huge range of quality independent roasters and brands from across UK, Europe and North America to support you in doing just that. With it easy to browse and shop for coffee on the marketplace or subscribe to a coffee subscription, it also won't be long until you discover a new favourite. All marketplace purchases are shipped direct for product freshness, with all subscriptions roasted fresh for us as part of our monthly delivery schedules.